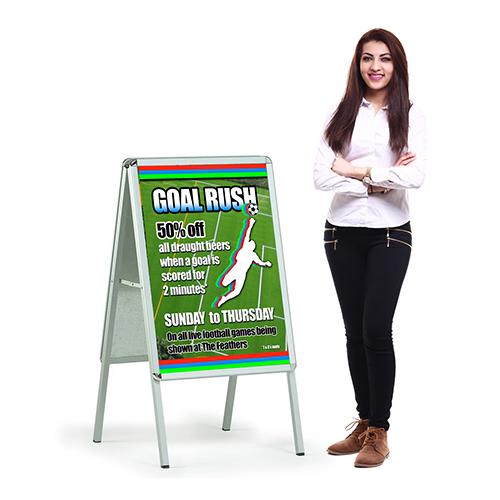 Send this to a friend
A0 'A' Board
Product details
'A' Board
This A Board is a great advertisement board, made from aluminium complete with a front opening snap frame which allows for easy access to insert posters. This A0 poster display is ideal for advertising in shop fronts. The A board is also weatherproof and therefore is durable for outdoor use at retail and catering promotions such as food festivals, Christmas markets etc.

• Double-sided A0 poster display
• Front opening aluminium snapframes with round corners
• Anti-glare poster covers with high UV resilience
• Steel back panels and hinged locking arms for maximum weight and stability
• 'Fold-flat' design using the hinged legs which allows for easy transportation
• Add your posters or purchase the frame alone
Artwork & Design Service

Got a question, or would rather order over the phone? Give us a call on 01905 745475. Alternatively if you would rather come in and see us, our Worcester based factory is open from 9:00am - 5:30pm Monday to Friday.
Product reviews
Be the first to review this product.