3 Top tips for ordering PVC Banners!
We have put together three effective tips to help make sure your banner is delivering the results you expect!
1) Get the sizing right – Measure the space you have available to display your Banner(s). Sounds amazingly simple but the number of times we have seen PVC Banners where the bottom will be obstructed by a hedge, railings or an even a wall is scary. Nine times out of ten the part being obscured will be the call to action, totally losing the value of the banner.
We can create banners to any custom size to really help you make the most out of the area you have available that may not fit into a standard sizing category. Simply click here to view our online banner calculator where you can get a instant price for any size PVC Banners in seconds.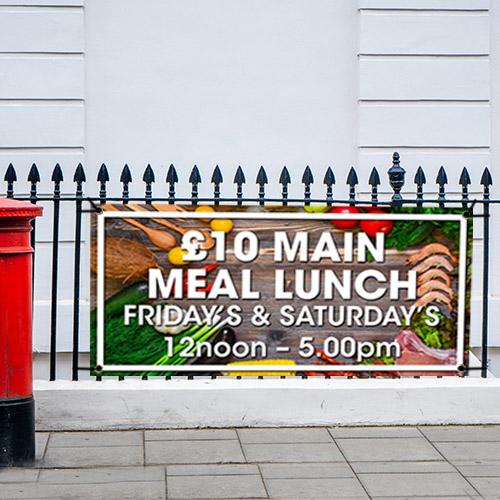 A correctly sized PVC banner with an effective message.
2) Consider how your customer is going to engage with your banner- For example, if you are looking to promote your shop that happens to be on a fast road then there is truly little point having a banner that is very word heavy as your passing trade will have no time to read it. Instead, a large image with a brief description and call to action which can be as simple as '' Fresh Strawberries Here'' will generate much more conversions.
Our team of Graphic Designers will not just make your banner look pretty! They have years of commercial design experience and are experts in designing banners that get results.
3) Choose the right material -When searching for a banner you will be met with many different material options, but which one is right for you? First you need to look again at where you will be displaying your banner. Is it going to go on a wall, being hung from a railing, spanned across a road, or attached to a scaffolding frame? Our best-selling PVC banner is our non-rip 510gsm (GSM – Grams Per Square Metre) banner. It is a very versatile and strong material that is perfect for hanging railings or attaching to wall and fences. It gives a high impact vibrant finish when printing on and is very cost effective.
If you are looking to display your banner in a area that is highly exposed or knowing to be particularly windy then you a probably better off choosing a mesh banner. The mesh banner material features many small holes which allow the wind to pass through meaning does not act like a huge sail putting a lot of pressure on the structure it has been attached too.
If you are lucky enough to be able to display your banner in a location where it can be seen either side, then we recommend our heavy duty 720gsm block out banner. This will allow you to advertise any message either side of your banner without any show through from the design on the opposite side. It works great for scaffolding, post mounted banners and hanging banners.
Have a question about banners? Give us a call on 01905 745 475 , send us an email at: sales@universalbanners.co.uk , Visit our Worcester factory or use our live chat to speak to our team right away!