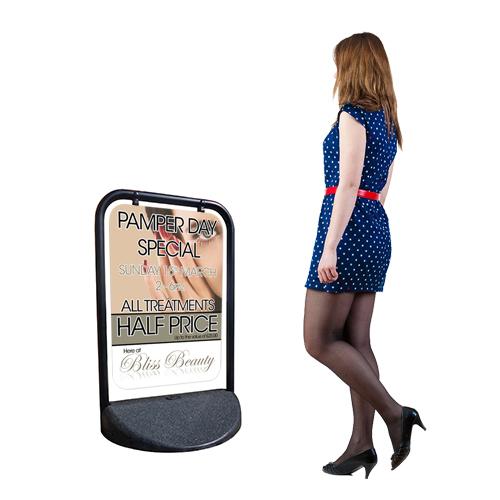 Send this to a friend
Classic Swing Sign
Product details
Classic Swing Sign
The classic swing sign offers a stylish twist on a classic. Supplied with a printed sign, communicate your message to the high street in style. Suitable for use in any public location.
Product Features:
Complete with white powder-coated printable aluminium sign blank
Double-sided
Printable graphic area 750 x 500mm
Secured with durable tamper proof hanging clips
Durable framework, powder-coated in white or black
Heavy duty 'double crescent' shaped recycled PVC base
Easy assembly, no tools required
Artwork & Design Service

Got a question, or would rather order over the phone? Give us a call on 01905 745475. Alternatively if you would rather come in and see us, our Worcester based factory is open from 9:00am - 5:30pm Monday to Friday.
Product reviews
Be the first to review this product.