Any Size Custom Printed High Wind Mesh Banners
Any Size Custom Printed High Wind Mesh Banners
Premium 370gsm Mesh banner materials
Mesh banners provide a wind/air flow release of up to 40%
Light weight – Suitable for indoor or outdoor use
1440dpi high resolution finish – Waterproof & fade resistant
FREE – Heat welded hems & Rust-proof nickel eyelets
FREE – Design Service*
Fast turnaround & Next working day delivery – Orders confirmed by 11am*
BEST VALUE banner printing service online – No express or hidden charges!
---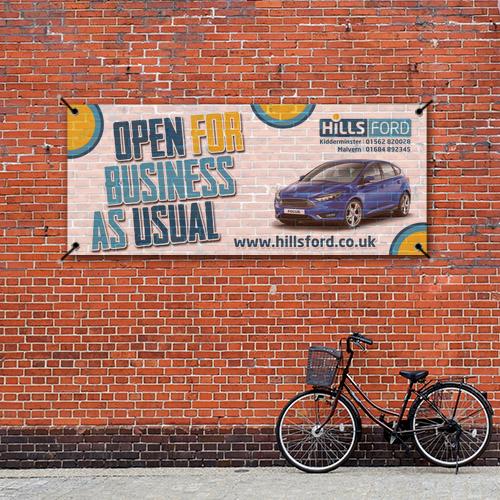 Send this to a friend
Any Size Custom Printed High Wind Mesh Banners
Product details
Universal Mesh Banners provides a wind/air flow release of up to 40% reducing the load on structures and fittings.
Suitable and widely used for: Large format advertisements, Scaffolding, Theatrical & TV backdrops, hanging displays and where both weight and wind are concerned.
Our Mesh banners can offer enhanced image compared to traditional meshes.
The premium 370gsm custom printed PVC Banner material is designed for cost-effective long-term use. Use our Online custom quote calculator for an instant price & benefit from our FREE design service.
Flat full heat welded hems and rust proof nickel eyelets provided as standard (no extra cost!)
Light weight for Indoor or Outdoor use
Air Flow through holes to prevent the banner acting like a sail
High-quality full colour print
Standard finishes include: hems and eyelets, cut to size , cut and eyelet, pole pockets and hem only
Waterproof banners that are printed with fade proof eco-solvent inks
Unlimited logos/photos/text
*Please note: Larger quantity orders and larger sized banners (over 2m x2m) may take extra days to turnaround. In these cases, we will advise you of the turnaround time when ordering.
Artwork & Design Service

Ok let's explain how we work, when it comes to artwork…..

We have tried to keep it simple and as low cost as possible using 3 simple methods.

1 MY OWN Artwork.  2 FREE Basic Artwork.   3 PREMIUM Artwork

MY OWN Artwork 

Great, ok here's how you can help us make you print look great!

Save artwork as a PDF at 100DPI and try to keep important images or text away from the edge.

Your artwork is always checked prior to printing ( We will call you immediately if we feel the quality of your artwork wont display well on your banner)

To send us your artwork simply use our online artwork uploader or if your file is less than 15MB send it via email to sales@universalbanners.co.uk.

For files over 15MB please use our MailbigFile account -https://www.mailbigfile.com/universaldisplays

Please refer to the artwork page in the menu for more details.

Need Extra help? Simply choose from our Design services below:

FREE BASIC Artwork

If you have the elements but don't know how to put them together we can take care of that FREE of charge.

Send across what you have eg,  logos and images, along with a brief of how you want your banner to look including any specific fonts you would like our design team to use.We can then advise you of the best path to take.  This service does not include redrawing low quality logos or sourcing images and includes one amendment.

PREMIUM DESIGN Service

Need a little more help?  You provide a brief of how you want your banner to look and we will do the rest! We will assign one of our experienced designers to work on a one on one basis with you, making sure they understand what you are trying to achieve, and also to work within your budget.

This service includes:

Full commercial design service

Redrawing basic logos ( more complex logos may incur an additional charge)

Design a high quality print File

Insert High quality images ( Supplied by you)

3x Amendments

Premium Design Service

We can source & Insert High quality images

We will only use licensed images that are sourced from professional photo libraries. This sometimes can mean incurring additional costs but will mean you own your image for future use.

Delivery

Approve your proof by 11am and receive your banner the next working day.





All goods are sent via a 3rd party courier on a standard 24 hour delivery and will require a signature. Should you require an earlier delivery I.E a pre 10am or weekend delivery please contact our team who will be able to help.




If you require your banners the same day collection is available from:




 Unit, 2 Shrub Hill Industrial Estate, Worcester WR4 9EL, Worcester WR4 9EL




 If you are unable to collect from our office we are sometimes able to arrange a same day courier service. 

High wind Mesh printed banners work  all day everyday. Their low cost makes them suitable for all budgets. Mesh Banners are especially effective in high wind locations due to having multiple small holes in the fabric. This also makes them half the weight of the equivalent PVC banner which can help when fitting very large banners and reduces strain on the fixings securing them.

To get the most out of your PVC banner its vital that it's fitted correctly with the correct fixings. But before you even get to fitting your banner its important to know what space your working with.

At Universal Banners we don't just sell stock sized banners, for no extra cost you can provide us with your custom sized measurements, to make sure your banner always looks it's best. Our fast and easy online calculator will quickly give you a price for your desired size.

To make hanging your banner easier all of our banners come with nickel eyelets as standard, but rope is also available which can be hemmed straight into your banner ideal for spans etc.

 In our experience we have found that eyelets are the most popular.

Banner eyelets are normally fitted every two feet to keep the mesh banner material flat and secure against the elements. Should you wish to have a different finish please let our team know. 

We are also able to provide fittings for your banner. The most common fitting we recommend which will keep your banner flat and is most adaptable to different environments and locations is the bungee cord ball and loop, also known as shock cord. 

This cost effective fitting is easy to use simply wrapping around the structure and the eyelet on your banner and locking itself over the ball.

 Bungee loops are  a non invasive option that will leave no marks after your event is finished. This method is great for hanging banners around poles , railings , fences, posts and balconies . We supply bungee cord loops in a variety of lengths to meet your requirements. 

When its comes to fitting scrim banners to brick walls or wooden fences we suggest simply using steel penny washers with wall plugs and screws for brick walls or self-taping screws on fences. 

To keep tension in your banner you can still use bungee cords with this option by just fitting hooks.

Please remember to always get the wall/ fence owners permission before carrying out any work and be sure to check that you will not be drilling through any electrical wiring or plumbing work. 
Product reviews
1 review
Our mesh banner is been up for 2 months now , in some quite harsh winds during the storms. Still look as good as new! Excellent quality would recommend!