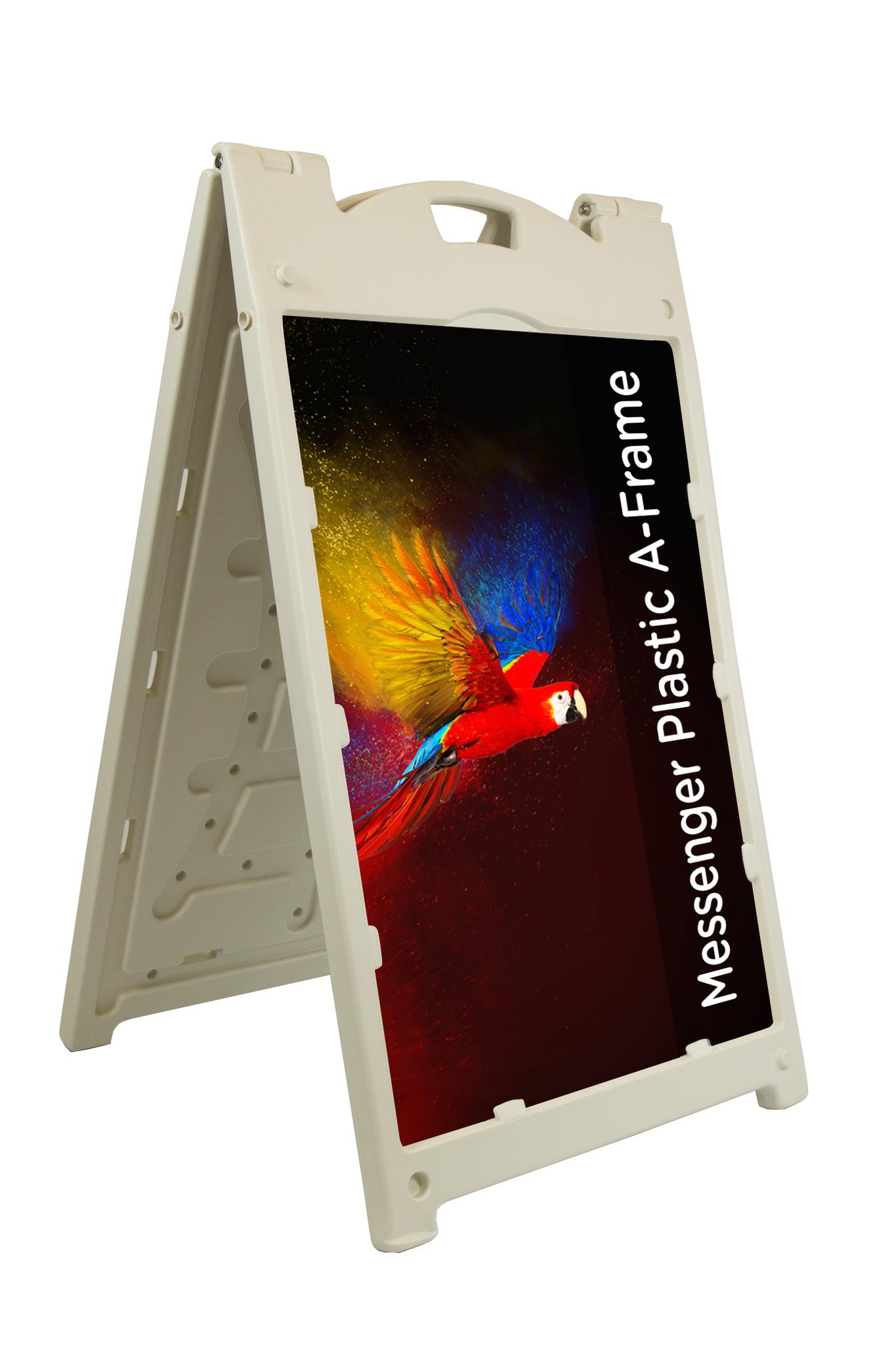 Send this to a friend
Eco Messenger A Board
Product details
A hardworking twist on the traditional A-board, Messenger delivers compact, targeted presence coupled with heavy duty performance. Messenger's innovative moulded plastic frame is virtually indestructible and can be filled with water for added stability, weighing a whopping 22kg when full, making this an ideal choice for unforgiving environments such as pavements, forecourts, garages and fuel stations.
Messenger can be used single or double sided and uses a simple but effective system of moulded traps to secure a rigid graphic, making it easy to install or change your message. It folds flat for compact storage and features an integral handle for convenient transportation.
Artwork & Design Service

I have my own artwork / I will design my own artwork




Keep all important text or images 5cm from the edge.
Save artwork as a PDF at 100DPI




Your artwork is always checked prior to printing ( We will call you immediately if we feel the quality of your artwork wont display well on your banner)




 To send us your artwork simply use our online artwork uploader or if your file is less than 15MB send it via email to sales@universalbanners.co.uk




 I need to use your Free basic Artwork service 




 If you have the elements but don't know how to put them together we can take care of that FREE of charge.




To qualify for this service you will need to supply any high resolution logos and images, along with a brief of how you want your banner to look including any specific fonts you would like our design team to use. This service does not include redrawing low quality logos or sourcing images and includes one amendment.




 I need a design from scratch £15 




 You provide a brief of how you want your banner to look and we will do the rest!




 This service includes:

2 x amendments
Full commercial design service
Redrawing basic logos ( more complex logos may incur an additional charge)
Design a high quality print File
Insert High quality images

 

We only use licensed images with our design service that have been sourced from professional photo libraries. This sometimes can mean incurring additional costs but will mean you own your image for future use.
Product reviews
Be the first to review this product.